Land Governance Reform for Equity and Growth in Lesotho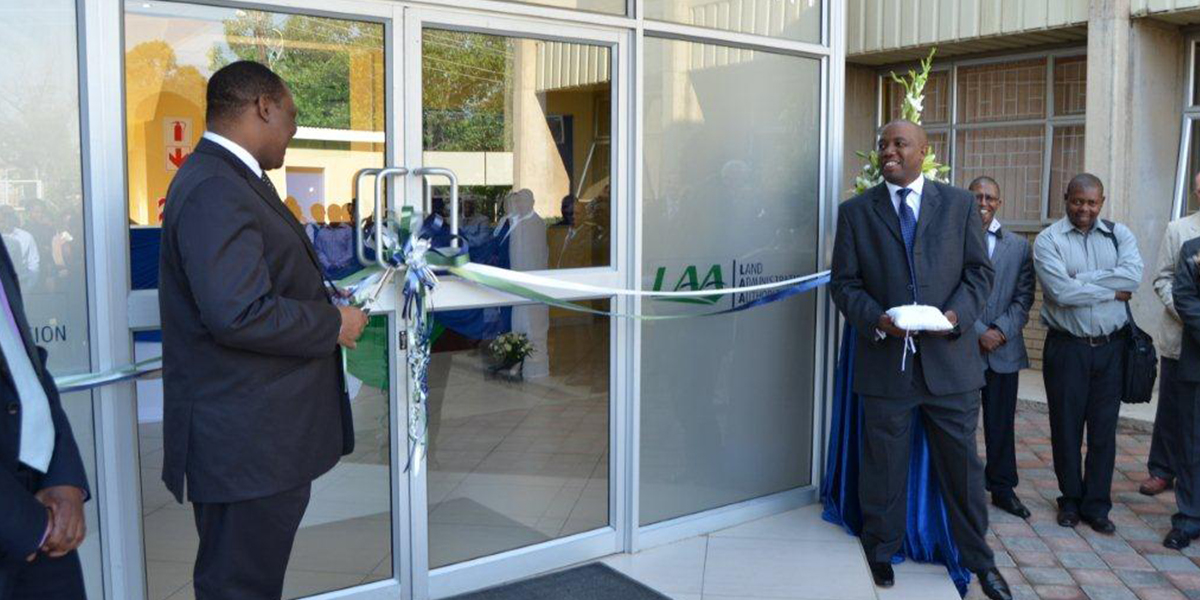 Program overview
MCC's $358 million Lesotho Compact funded a $17.9 million land administration reform activity under the Private Sector Development Project. The activity supported land policy and regulatory reform, streamlined land administration procedures, established the Land Administration Authority, conducted public awareness activities, and supported systematic land regularization. The activity was based on the theory that strengthened land tenure and effective land administration would reduce land disputes, promote formal land transactions and increase investment and use of land as collateral, which would contribute to private sector development , especially for women.
Description of the evaluator
MCC commissioned the World Bank's Development Economics Team to conduct an independent final evaluation of the performance and impact of land administration reform activity in Lesotho. Full report findings and learning: https://data.mcc.gov/evaluations/index.php/catalog/260.
Main findings
Women's tenure improved with a 55 percentage point increase in individual or joint ownership of newly registered plots.
Systematic land regularization reduced concerns about land disputes by 5 percentage points for female-headed households, but had no effect on fear of losing land.
The passage of the 2010 Land Act and the creation of the Land Administration Authority have been associated with significant reductions in transaction time. The average time to register a land transfer and a mortgage fell by more than two-thirds (67% and 80%, respectively).
The activity catalyzed land transfers from 165 per year in 2010 to 1,075 per year in 2019.
Policy and institutional reforms have activated credit markets by more than doubling mortgage lending and increasing the share of mortgages issued jointly or in the name of women.
Systematic land regularization in informal settlements has not resulted in land investments.
Evaluation questions
This final evaluation of mixed methods was designed to answer the following questions:
1


Has the activity reduced the time needed to complete a land transaction and encouraged use of the formal land system? How has the activity affected trust in the land governance system, demand for formal land transactions, and changes in land markets?

2


Has the activity increased tenure security and reduced land-related conflicts?

3


Has the activity contributed to real estate investments, access to credit or related changes in land values?

4


How do the above results differ between men and women and those already in formal and informal areas?
Detailed results
The activity has resulted in increased land rights. Systematic land regularization provided more than 52,000 leases, while legal and institutional reform catalyzed sporadic land registration. Sporadic land registration more than doubled in 2012 and demand remained high. The Legal Capacity of Married Persons Act, which was a pre-requisite to the pact, and the 2010 Land Act, which presumed joint title to plots held by married couples, have had a significant impact on women's land rights. The activity increased the likelihood of a newly registered plot having a female sole or co-owner by 55 percentage points. From 2011 to 2019, women were listed as co-owners or sole proprietors on more than 80% of leases from sporadic registrations and more than 85% of leases from systematic regularizations.
Although documented land rights have increased, the evaluation found no changes in perceptions of tenure security as a result of land regularization works, measured by fear of losing land. However, despite minimal fear of land conflict (less than 5% at baseline), female-headed households reduced their land conflict concerns by 5 percentage points.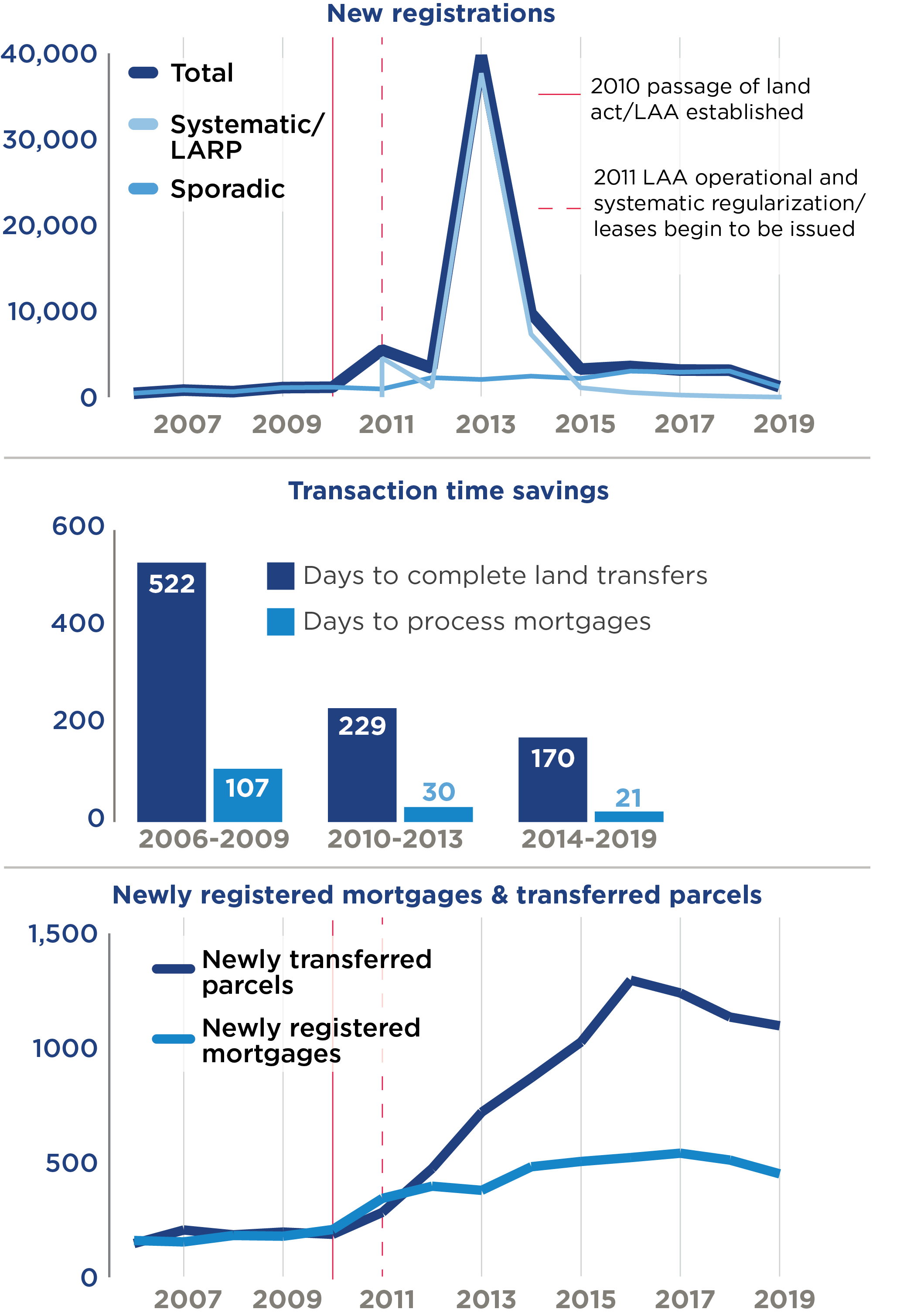 Business policy and institutional reforms have reduced barriers to registering land rights, transfers and mortgages. Analysis of data on Land Administration Authority records shows that the time required to complete a land transfer, from providing all required documents to approving the registered transfer, has increased from an average of 522 days in 2006-2010 (before the reforms) to 229 days in 2011-2013. Similarly, the number of days to process a mortgage has decreased from an average of 107 days to 30 days. Most of this reduction was due to the removal of the ministerial consent stage (70 days), followed by reductions in processing time with the new land administration authority and simplified procedures. These transaction time savings have continued over the past decade. In fact, after the pact (2014-2019), the average processing time for a land transfer fell to 170 days (overall decrease of 67%) and for a mortgage to 21 days (overall decrease of 80% ).
The activity catalyzed land transfers from 165 per year in 2010 to 1,075 per year in 2019. From 2011 to 2013, transfers increased by an average of 38% each year, which more than quadrupled land transfers , rising from 165 in 2010 to 698 in 2013. Transfers have continued to increase. an average of 18% per year from 2014 to 2016 with transfers reaching 1,274. Transfers decreased to 1,075 in 2019. Patches registered sporadically were more likely to transfer land.
In accordance with the logic of the project, the political and institutional reforms of the activity, in particular the abolition of the authorization of the minister on mortgage loans, have considerably improved access to credit. Mortgages doubled from an average of 168 per year in 2008-2010 to 351 per year in 2011-2013, with a further increase to 480 per year in 2014-2019. The share of mortgages issued for plots jointly owned or registered by women increased from less than a quarter of new mortgages to more than 60% of new mortgages. However, the assessment did not find any changes in land investments or mortgages resulting from land regularization. The project logic did not foresee changes in mortgage lending due to the bankability of households in informal settlements; however, there was an investment expectation.
One of the problems was the lack of comparability between treatment and comparison areas for systematic land regularization. The comparison areas were more rural and began to urbanize and develop soon after the pact, noting that their main reason for investing was to secure land. Enrollment and sporadic transfers increased in these areas from 2015. Treatment areas were more urbanized and invested before land regularization partly due to land investment criteria to obtain a program lease.
Economic rate of return
MCC considers an Economic Rate of Return (ERR) of 10% as the threshold for making the investment.
18%




Pre-investment

16%




Project closure

30.1%




ERR based on rating
The use of registry data from 2008 to 2019 to replace assumptions made ex ante, or at closing, on the number of plots registered, the share of plots used as collateral for a loan, the volume of land transfers, the costs transactions and average mortgage values ​​increases the economic rate of return of the project to 30.1%, compared to 18% at the time of pre-investment and 16% at closing.
CMC learning

Legal, policy and institutional land reforms combined with public awareness campaigns are key to boosting land markets and access to credit. Often seen as an enabling factor, an effective land governance system can deliver self-sustaining, far-reaching and long-term benefits.

Legal reform can be transformative in improving women's land rights when changes in legislation are supported by complementary changes in regulations that ensure that women's legal rights are documented in the same way as men's and by public awareness targeted at men and women.

In areas where land collections are relatively strong, systematic land registration may not improve land collections and investments; land investment can indeed strengthen and secure land claims.

Legal and institutional reform often requires a separate assessment methodology and sampling approach from assessing the clarification and recognition of tenure rights and boundaries. The flows of beneficiaries from each differ, but their interactions with each other are key to understanding and capturing results.
Assessment methods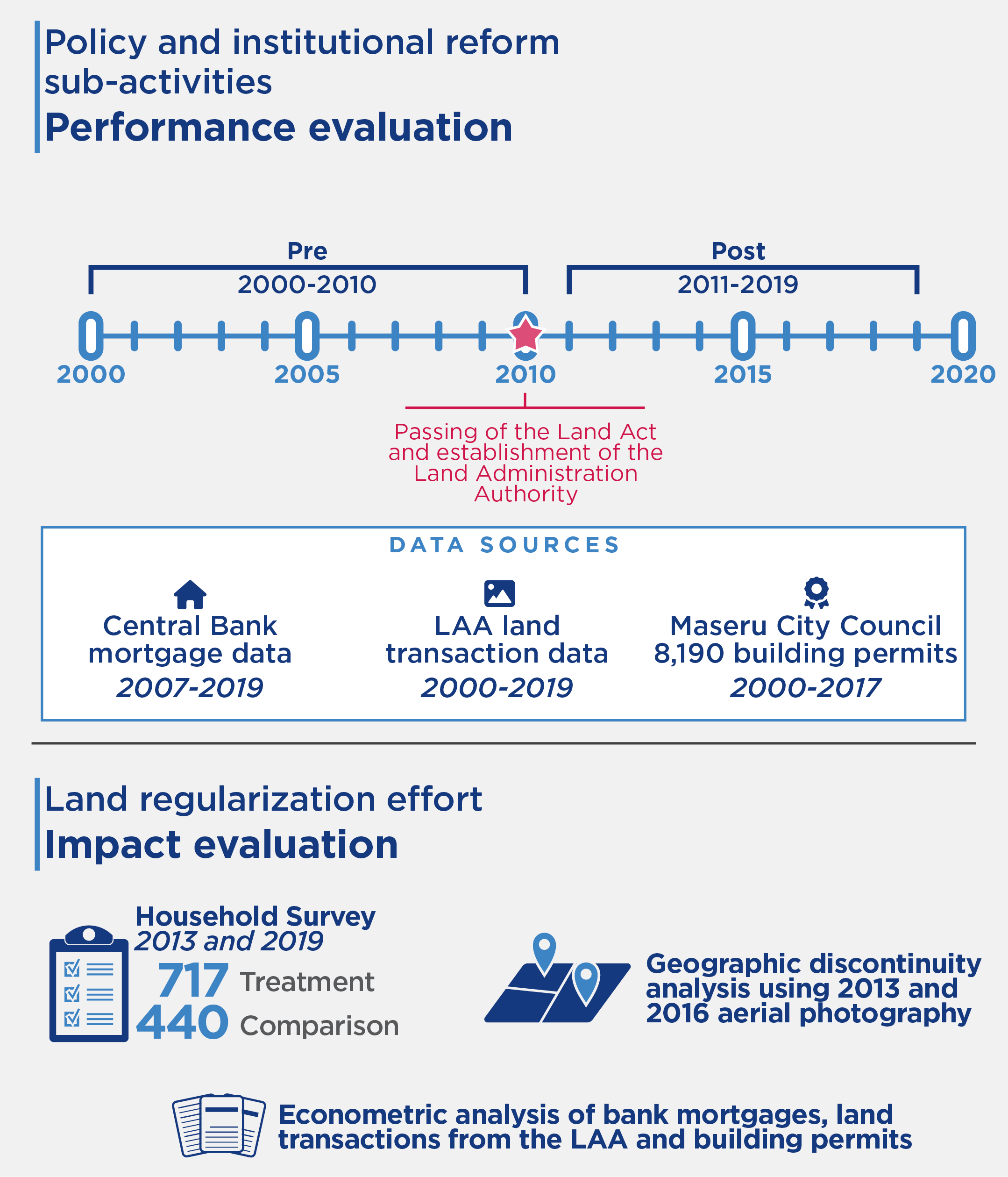 The study included an evaluation of the performance of the policy and institutional reform sub-activities and an evaluation of the impact of the land regularization effort. The performance evaluation used interrupted time series and descriptive analysis of administrative data on volume, transaction time and gender equality of land registrations, land transfers, building permits and mortgages from 2000 to 2019. The impact evaluation used a matched difference-in-differences methodology to analyze panel household survey data from 2013 and 2019, allowing for an exposure period of approximately five and a half years after the impact evaluation. issuance of the lease. This was complemented by a spatial discontinuity design using aerial photographs from 2013 and 2016 on the structures and an econometric analysis using block analysis on administrative, banking and building permit land data.